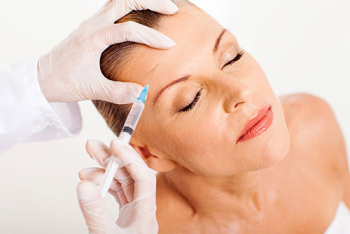 Most patients get Botox® to feel better about themselves — and that makes them more confident.
Men and women in competitive careers want to appear sharp, sophisticated, and at the top of their game. Patients want to have long and vibrant careers and so much of it has to do with appearance and confidence.
Botox helps turn back the clock.
HOW DOES BOTOX® COSMETIC WORK?
For the frown lines area, Dr Lewis administers injections into muscles in your forehead— and in the procerus muscle and 4 in the corrugator muscles.
Injecting Botox® Cosmetic into the muscles that cause frown lines temporarily reduces the activity of those muscles. The result is a reduction in the appearance of those lines.
Botox® Cosmetic targets one of the underlying causes of frown lines and crow's feet—the repeated muscle contractions from frowning and squinting over the years. Dr Lewis injects these muscles with Botox® Cosmetic to temporarily reduce muscle activity. You will begin to notice a visible smoothing of your crow's feet lines and frown lines between your brows.
With Botox®, less is more. Ideally, patients come in once or twice a year.
Don't trust your face to just anyone!
---
BOTOX® Cosmetic may cause serious side effects that can be life threatening. Call your doctor or get medical help right away if you have any of these problems any time (hours to weeks) after injection of BOTOX® Cosmetic:
Problems swallowing, speaking, or breathing, due to weakening of associated muscles, can be severe and result in loss of life. You are at the highest risk if these problems are pre-existing before injection. Swallowing problems may last for several months.

Spread of toxin effects. The effect of botulinum toxin may affect areas away from the injection site and cause serious symptoms including: loss of strength and all-over muscle weakness, double vision, blurred vision and drooping eyelids, hoarseness or change or loss of voice, trouble saying words clearly, loss of bladder control, trouble breathing, trouble swallowing. If this happens, do not drive a car, operate machinery, or do other dangerous activities.
Especially tell your doctor if you: have received any other botulinum toxin product in the last 4 months; have received injections of botulinum toxin, such as Myobloc®, Dysport®, or Xeomin® in the past (be sure your doctor knows exactly which product you received); have recently received an antibiotic by injection; take muscle relaxants; take an allergy or cold medicine; take a sleep medicine; take aspirin-like products or blood thinners.
Other side effects of BOTOX® Cosmetic include: dry mouth, discomfort or pain at the injection site, tiredness, headache, neck pain, and eye problems: double vision, blurred vision, decreased eyesight, drooping eyelids, swelling of your eyelids, and dry eyes.